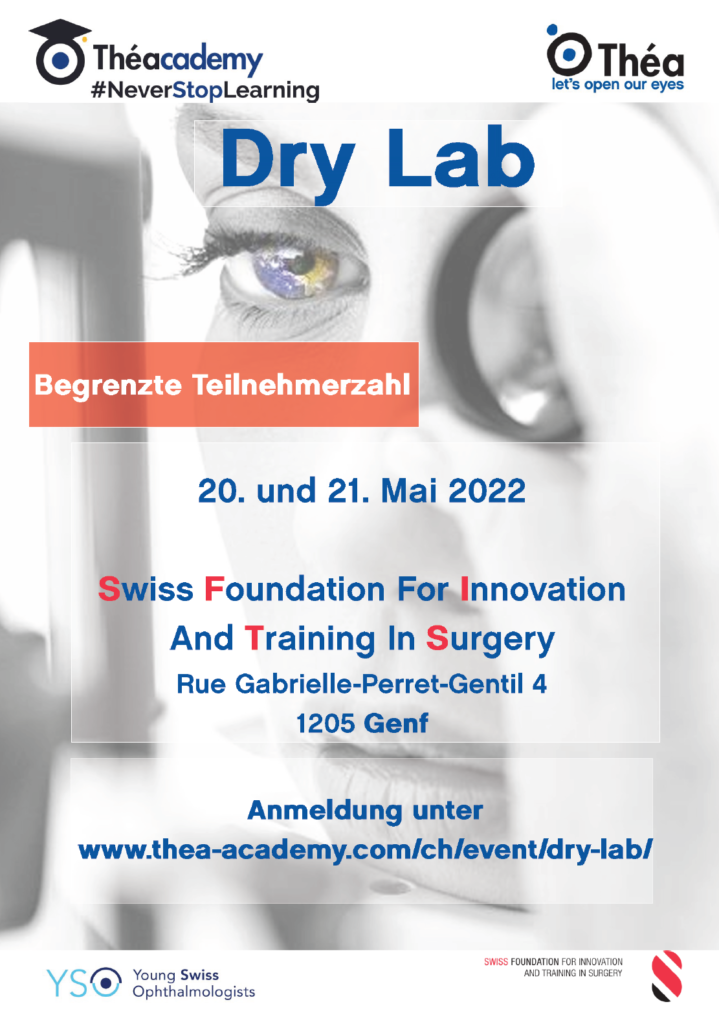 20 May
Dry Lab
Freitag 20. Mai und Samstag 21. Mai
Vendredi 20 mai et samedi 21 mai
Photo-Gallery
Théa ist ein wichtiger pharmazeutischer Partner für Augenchirurgen, und seit Jahren unterstützen wir proaktiv die Ausbildung von jungen Ophthalmologen, indem wir ihnen die Möglichkeit bieten, ihr medizinisches Fachwissen zu erweitern und ihre Kernkompetenzen in der Augenchirurgie durch speziell zugeschnittene Workshops wie "DryLab by Théa" zu verbessern. Diese Workshops sind eine großartige Gelegenheit, die chirurgischen Verfahren und Gesten zu erlernen.
Théa est un partenaire pharmaceutique clé pour les chirurgiens ophtalmologistes. Depuis des années, nous soutenons de manière proactive la formation des jeunes ophtalmologistes en leur offrant la possibilité de développer leur expertise médicale et d'améliorer leurs compétences de base en chirurgie ophtalmologique grâce à des ateliers sur mesure tels que le "DryLab by Théa". Ces sessions d'atelier sont une excellente occasion d'apprendre les procédures et les gestes chirurgicaux.
Das DryLab ist auf 40 Anmeldungen limitiert. Teilnehmer müssen einen Kostenbeitrag von CHF 160,- mit Hotelübernachtung bzw. CHF 125,- ohne Hotelübernachtung leisten.
Le DryLab est limité à 40 inscriptions. Les participants doivent s'acquitter d'une participation aux frais de 160,- CHF avec hébergement à l'hôtel ou de 125,- CHF sans hébergement à l'hôtel.
Programm
Freitag 20.5. Beginn um 18-19 Uhr
1) Einführung, Ziele des Kurses und praktische Fragen, Apéro
2) Grundlagen der Augenchirurgie (Mikroskop, Einstellungen usw.)
3) Anatomie des Auges mit Schwerpunkt Katarakt- und Glaukomchirurgie.
Samstag 21.5. Beginn um 9.00 Uhr
– 9.00-9.30 Uhr: Einführung in die Mittel, die uns in der Augenchirurgie zur Verfügung stehen: Instrumente und Nahtmaterial; was wird bei welcher Gelegenheit und für welches Gewebe verwendet
– 9.30-10.30 Uhr: 1-2 Videos Phako und andere AS-Operationen (Pterygium, Glaukom, Hornhauttransplantation) kommentiert, erklärt, Fragen und Antworten
– 10.30 – 17.00 Uhr Wetlab. Wir können herumlaufen und helfen, kommentieren, aber auch einige Filme kontinuierlich auf der Leinwand laufen lassen
– 17.00 Uhr Rückmeldung der Teilnehmer
– 17.30 Uhr Zusammenfassung und Abschluss des Kurses.
Programme
Vendredi 20.5. Début à 18-19 heures
1) Introduction, objectifs du cours et questions pratiques, Apéro
2) Bases de la chirurgie oculaire (microscope, réglages, etc.)
3) Anatomie de l'œil avec accent sur la chirurgie de la cataracte et du glaucome.
Samedi 21.5. Début à 9.00 heures
– 9.00-9.30 : Introduction aux moyens dont nous disposons en chirurgie oculaire : Instruments et matériel de suture ; qu'utilise-t-on à quelle occasion et pour quels tissus ?
– 9.30-10.30 : 1-2 vidéos Phako et autres opérations AS (ptérygion, glaucome, transplantation de cornée) commentées, expliquées, questions et réponses
– 10.30 – 17.00 heures Wetlab. Nous pouvons nous promener et aider, commenter, mais aussi faire passer quelques films en continu sur l'écran.
– 17.00 h Retour des participants
– 17.30 Résumé et clôture du cours
Location


SWISS Foundation for Innovation and Training in Surgery (SFITS)
Rue Gabrielle-Perret-Gentil 4
1205 Geneva
SWITZERLAND
Practical information
Friday 20 May 2022
18:00 → 19:00
Swiss Foundation For Innovation And Training In Surgery (Sfits)
Wie kann ich teilnehmen? / Comment participer?
Schön, dass sie Interesse am Dry Lab haben. Melden Sie sich gerne per Mail an info.switzerland@theapharma.com an. Bitte beachten Sie den Selbstkostenbeitrag und geben Sie an, ob Sie ein Hotelzimmer benötigen.

Nous sommes heureux que vous soyez intéressé par le Dry Lab. N'hésitez pas à vous inscrire par e-mail à info.switzerland@theapharma.com. Veuillez tenir compte de la participation aux frais et indiquer si vous avez besoin d'une chambre d'hôtel.
Mail schreiben/ Écrire un mail